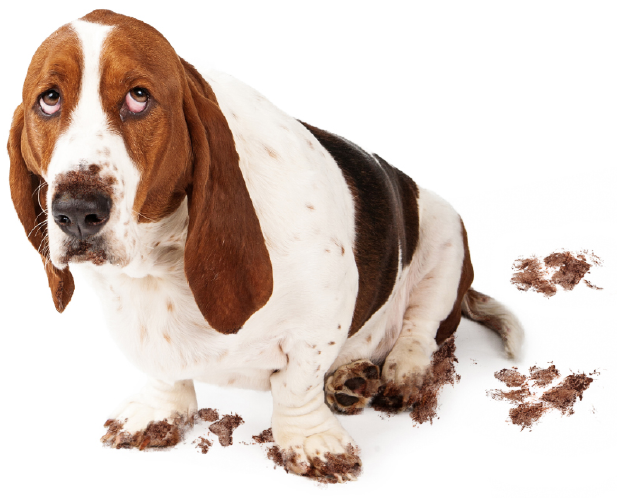 Such a shame we have to get heavy about this…
A growing trend is that certain affiliates are using unethical methods to try and generate sales. We've even had our own personal sites abused and received hundreds of complaints of spam and piracy.
And each time we find the culprits we have them banned by Clickbank from ever promoting The Online Dog Trainer or any Doggy Dan products again.
In order to protect our reputation and our brand (and our niche) we are taking some simple steps. Here are six activities which are unacceptable and will result in any affiliate being immediately banned from promoting our products.
AFFILIATES WILL BE BANNED IF…
#1:

They try pose as "Doggy Dan" or "The Online Dog Trainer"
We just can't afford to have our 2 brands portrayed in so many different ways by affiliates. To get to number one in ClickBank, and get our average sale up to $100USD for affiliates, we've spent over 6 years developing our business and brand. To maintain this, we have to be strict about the integrity of our brands.
There is a grey area around what exactly copying our brands is, and if you're not sure then get in touch. But bottomline is, if any affiliate is trying to deceive visitors into thinking they are either Doggy Dan, OR The Online Dog Trainer, then they will be banned. This includes:
URLs that try and mimic ours (example: the-online-dog-trainer.com)
Calling their page, site, app, publication or online property a derivative of "Doggy Dan" or "The Online Dog Trainer"
Using photos of "Doggy Dan" or "The Online Dog Trainer" logo as your own profile image on any page, site, app, publication or online property
To be clear, you can still promote TODT through your own site, landing page or social page, and design them any way you like, as long as you do not pretend to be Doggy Dan or TODT.
#2:

Affiliates MUST NOT post on OUR social media sites and leave hoplinks
We have to maintain our reputation and build our fan base. The more people that like Doggy Dan on Facebook for example, the more credibility he has and the more chance you have of making sales.
So having spammy links for our own products coming from unknown people is a real turn off for people. Facebook users are there to communicate, and not to be sold to. We don't sell on Facebook, period. We build friendships and trust. Please leave us to do that. It will benefit you. (And if you have left stuff on Facebook, YouTube, Twitter etc, then please do us a favour and go and remove it.)
Just to clarify: YES you may post your affiliate links on YOUR OWN social media sites, just not on ours. So stay away from OUR Facebook,YouTube, Pinterest and Twitter accounts (and any others we have a profile on.)
#3:

Affiliates MUST NOT use other dog trainer's and non-profits web property to market TODT
Affiliates cannot post hoplinks in the comment section of any of their social media platforms, or ours.
There are many famous dog trainers and personalities on the web, as well as hard working non-profit companies, and they have been contacting us to say that they will proceed legally against you if the spam and abuse they are receiving from The Online Dog Trainer affiliates doesn't stop.
This really hurts. And Dan is gutted about it. We just can't afford to let Dan's reputation come under threat. He's widely respected in the niche– one of the world's best–and this totally undermines his gift and all our hard work.
Affiliates cannot use the names of these high profile people or companies, OR their material, and redirect to "theonlinedogtrainer.com".
It directly infringes on their copyright, and YOU could face legal action.
And also remember, if we get shut down, nobody wins.
PLEASE – If you have done anything underhanded like this, go and remove it!
#4:

Affiliates MUST NOT promote any of our other price points
We currently ONLY offer The Online Dog Trainer for:
$1 Trial for 3 Days followed by $37/mo (Pr0duct ID #8)
$147 for 6 months access (Pr0duct ID #19)
$198 Annual subscription (Pr0duct ID #45)
Easy Way Funnel Audio Book Tripwire for $4.99 & $6.99 (Pr0duct IDs #23, 24)
If anyone tries to promote our product for ANY other price point, we will have them banned.
#5:

Affiliates MUST NOT use our domains and brand names for direct linking for search traffic ads
On both Google Adwords and Bing there is only one spot in the ad results for our domain for our brand keywords (Doggy Dan, The Online Dog Trainer), and we reserve the right to use this at any time. For questions on how to link using these ad platforms I suggest you search the Warrior Forum.

If you have any material on the web that violates this, then please take it down immediately.
#6:

Affiliates MUST NOT direct link to the ClickBank Order Page
We don't allow direct linking to our ClickBank's Order Page unfortunately. Of course we can't stop you from doing this. But we will ban affiliates who we find doing it (TIP: ClickBank lets us know whenever they receive the link structure that allows direct linking). It's our brand and our products and we have to abide by certain rules (ClickBank's, Google's terms of service, Bing etc) and what we say on our sales page protects us from various complaints and circumstances. Without presenting this info prior to a sale we are vulnerable to lawsuits that could put us out of business very soon.
ClickBank's Risk Team is working with us on this issue, and have enabled Whitelisting for us. This means that as soon as we find any affiliate abuse, we now have the ability to disable the affiliate's links immediately.
There will also be a vetting process whereby new affiliates will have to apply to become an affiliate of ours.
We trust you understand the gravity of the situation, and see the steps we've taken as VITAL to YOUR OWN affiliate business, to the industry, and us.
Thanks for taking the time to read this.
Best,
Graeme & Dan

PS – A HUGE favor please… if you come across anything foul looking out there, anything spammy at all, report it to us so we can try and put a stop to it. This is biggest and the most helpful thing you can do right now – Thanks!